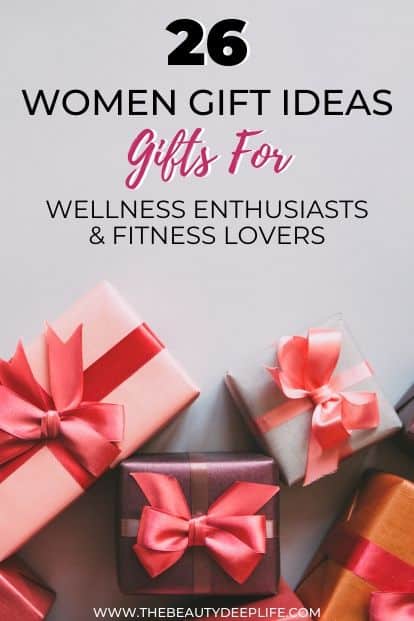 Women Gift Ideas: The 26 Most Popular Gifts For Wellness Enthusiasts & Fitness Lovers
Hello, Beauties!!  Finding those perfect health & fitness gifts for those you love and care about can be difficult and even downright stressful sometimes, which is why gifting guides are always so wonderfully helpful! 
This particular gift guide is geared towards wellness & fitness enthusiasts, health nuts, and healthy lifestyle seekers!!  Does that sound like anyone you know?? 
If so, we've rounded up the best gifts for all the health-conscious, active, sporty, and fitness-loving women in your life.  Whether she is an experienced wellness buff, a workout feen, or has just recently decided to adjust her ways towards a healthier lifestyle; we've got something for her on this list! Enjoy…and happy gifting!! 
Disclosure: This post contains affiliate links, which means I receive a small commission at no extra cost to you if you make a purchase using one of these links. For more info, click to see Disclosure Policy. As an Amazon Associate, I earn from qualifying purchases.
Health & Fitness: The Official 26 Top Gifts Ideas For Your Loved Ones!!
Buy quality yoga gear at amazing prices. Click Here!
QUICK TIP: Most of these gift ideas will come with FREE same-day, one-day, or 2-day shipping with an Amazon Prime membership, making last-minute gifting super easy! Don't have Amazon Prime??  No worries, you can simply grab your 30-day free trial right here!
1) Lingswallow High Waist Yoga Pants
These workout leggings are both functional and incredibly cute!  The pockets make them so very useful for carrying your phone, keys, or a gym access card.  They also give great support, comfort, and stretch, while offering belly control.… yay!!!! 
But the piece de la resistance is that their design is perfect for lifting the booty in the most flattering way ladies!!!  These leggings come in a variety of colors and patterns to fit almost anyone's taste and style!
Click Here To Shop Now
2) G-TING Blender
This super convenient blender is portable, making an on-the-go healthy lifestyle quite achievable for her!!  Ideal for smoothies, shakes, juices, and more!!  It gets great reviews too…Nearly five stars on Amazon!!
Click Here To Shop Now
3) Hurdilen Resistance Bands Loop Exercise Bands
Looking for some at-home fitness gifts for her?? Well, if she has fitness goals for lifting and toning her glutes and legs, this one will come in very handy!! 
Click Here To Shop Now
4) Motivational Water Bottle with Time Marker Reminder
Is drinking more water one of her health goals?  Staying hydrated is HUGE for most health enthusiasts, but sometimes keeping track and remembering to drink enough water consistently can be a bit tough!!
That's where this gift will help!!  It has hourly time measurements on both sides of the bottle to assist her as she keeps track!  If she wants to get really serious about it, she can simply sip to the marked line each hour.  Now she can easily make sure she stays steadily hydrated throughout her day!
Click Here To Shop Now
5) Savvy Infusion Water Bottles (24 or 32 ounces)
For the gal that hates drinking water but knows she needs it to stay healthy, this gift makes a delightful option!! 
She can infuse her water (still or fizzy) using this bottle with delicious fresh fruit or veggies like cucumbers!  (Pro Tip: Tell her to try cucumbers and lemon for a refreshing spa-like drink)  It also comes with an ebook featuring tips and yummy recipes she can try!  Water shall never be boring ever again with this fun and flavorful gift!
Click Here To Shop Now
6) Gaiam Premium Print Mat
This beautifully patterned fitness mat is reversible and great for any floor work or stretching, from yoga to pilates.  You also get a FREE gift with purchase (yoga workout download) that I'm sure she will appreciate as well. 
The Gaiam mat comes in over 30 designs and colors so, there are lots of styles to choose from!!
Click Here To Shop Now
7) Boltune Bluetooth Wireless Headphones
These sweat and waterproof headphones are made for workout queens!  Additionally, this gift offers 16 hours of playtime with a built-in microphone. 
So whether she is a Chatty Cathy or wants to immerse herself in music while she's in the "zone," she's undoubtedly covered with these!
Click Here To Shop Now
8) Herbivore – Natural Soaking Bath Salts (DETOX)
After a grueling workout session, she will love this soak!!  The perfect post-workout recovery!!  She can relax and soak her tired, achy muscles while pulling all the impurities out of her body with a detoxing, yet soothing bath.
Click Here To Shop Now
9) Prep Naturals Glass Meal Prep Containers
For the meal preppers, we know and love!!  One must prep for success, right??  And when it comes to consistently eating healthy, food meal prepping is key! 
These containers are glass, which makes freezing and reheating in the oven or microwave a breeze!!  She can prep for the week on her Sundays and stay on top of her healthy eating goals!  This one featured is a pack of 5 containers, but there is a pack of 10 available here.
Click Here To Shop Now
10) S'well Vacuum Insulated Stainless Steel Sport Water Bottle
Talk about a stylish water bottle!!  S'well bottles are definitely worth the hype as they are fantastic for keeping drinks cold for up to 24 hours, and hot drinks hot up to 12.  This specific style and size S'well bottle comes in a variety of colors and unique patterns.  But if you want to see more trendy options click here.
Click Here To Shop Now
11) Vooray Burner 16″ Compact Gym Bag
Adorable and chic gym bag for the fitness fanatic in your life!!  It has a side pocket for her shoes, a waterproof base for those just in case times, and several pockets for all her storage needs! 
This bag comes in about ten other styles and patterns!!  Not her style, worry not, we have another gym bag option featured below in the next section!!
Click Here To Shop Now
12) QiXin Weighted Jump Rope
A quick and easy way for her to get her cardio in each day!  And since it's weighted, it can help with creating some lean muscle too!!
Click Here To Shop Now
13) TRIBE Water Resistant Cell Phone Armband Case
Whether she's known for taking brisk walks, hiking, biking, or running, this could very well be one of the most helpful and useful fitness gifts for her!! 
No pockets??  No problem!!  She can just use her new Tribe armband.  It works with most iPhones and other phones with similar dimensions, like various Samsung Galaxy phones, etc.  Even has a little pocket for her key!
Click Here To Shop Now
Healthy Eating Recipe Books…
14) The Love and Lemons Cookbook
When healthy eating needs a little palate switch up, this cookbook will come in handy for her!  We all know that sometimes getting our veggies in can become a bit boring and monotonous, especially if we are using the same basic recipes all the time.
However, with some new recipes to try, she'll be completely stoked!  (Gives some gluten-free and vegan options too for those with dietary restrictions).
Click Here To Shop Now
15) Simple Green Smoothies: 100+ Tasty Recipes to Lose Weight, Gain Energy, and Feel Great in Your Body
For the health enthusiast seeking some yummy smoothie recipes or someone looking to jump-start a healthy lifestyle! It features recipes for radiant, glowing skin, to help with low energy, and for weight loss. 
Is she a mom?? It works for the whole family too!! There are some kid-friendly recipes to help her get some vital nutrients into the kids each day!
Click Here To Shop Now
16) Love Real Food: More Than 100 Feel-Good Vegetarian Favorites to Delight the Senses and Nourish the Body
Whether she is a vegetarian or not, she can use this cookbook to create some new tasty recipes to help her get her veggies in. It's all about having variety right!!??
Click Here To Shop Now
17) Bala Bangles
Wrist and ankles weights to amp up her workouts!  They will work great for adding a little resistance to her cardio exercise sessions (yoga, pilates, Zumba, & walking)!
Click Here To Shop Now
18) Spiralizer 5-Blade Vegetable Slicer
If she's trying to cut back on her carbs or following a gluten-free, paleo, or keto diet, this gift is an absolute must for quick and easy options!!  This model also comes with four recipe ebooks to keep her recipes new and fresh!
Click Here To Shop Now
19) RBX Active Women's Fashion Back Detail Flowy Yoga Tank Top
Every active woman needs a good top that provides comfort, breathability, and just the right dose of coverage!  And RBX offers several sporty-chic styles to pick and choose from.  Plus, some gorgeous colors as well!!  Click here to see more.
Click Here To Shop Now
20) Under Armour Women's Vanish Mid Print
When it comes to activewear, and simple fitness gifts, we can't forget a cute sports bra with a flattering V-neck design!
Click Here To Shop Now
---
21) Under Armour Women's Heatgear Armour High Waisted Mesh Ankle Crop
These leggings were featured as a Misty Copeland Athlete-Pick!!  Aren't they hot!!??  Check out the sexy mesh fabric!!  If she has great calves, she can flaunt them in these while she gets that workout in!! 
Click Here To Shop Now
22) Instant Pot DUO60 6 Qt 7-in-1 Multi-Use Programmable Pressure Cooker
Another must-have item for healthy meal prepping and for convenience!!  Not to mention, if she is all about nutritional value for eating, she will be happy to know that pressure cooked food retains nutrients better than if it is steamed or boiled.  For this pressure cooker, there's an app with several recipes to try with it!!
Click Here To Shop Now
23) Fitbit Inspire HR Heart Rate & Fitness Tracker
She can keep track of her heart rate, sleep, and calories burned with this healthy tech gift!  The HR version is basically the Fitbit Inspire + PLUS!!!  And I mean big time PLUS, with three new features!!  As far as fitness gadget gifts for her go, this one is sure to leave her satisfied!!
Click Here To Shop Now
24) CALPAK Luka Duffel Bag Metallic Black
One of Oprah's official "Favorite Things," this lovely bag would work fabulously well as a gym bag too!!  She will hit the gym in style with this beauty!!  There is also a special, separate compartment just for her shoes!  It's available in black or shimmery silver. 
Click Here To Shop Now
25) Rose Quartz Crystal Water Bottle
If she is into the healing power of crystals for positivity, purification, and well-being, consider this wellness gift idea for her.  Rose quartz is infused with the positive energy of love, compassion, and femininity.  Check it out!
Click Here To Shop Now
26) Adidas Originals Women's Pulseboost Hd Running Shoe
Now for one of our last gifts… every sporty, fitness fanatic needs a cute pair of comfy, supportive sneaks! Right??  More color options (three more) are available on Amazon. Make sure to check them out!!
Click Here To Shop Now
---
Gifting Wrap Up
I hope you found some gifting inspiration from these ideas!  Are you a health, wellness, and fitness lover?  Do you like receiving wellness and fitness gifts yourself?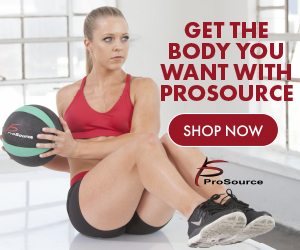 More Holiday Related Articles & Resources:
Do You Struggle With Wellness & Self-Care Practices?? Get Our FREE List of 70 Self-Care Ideas For Women!! Click Here For Access!!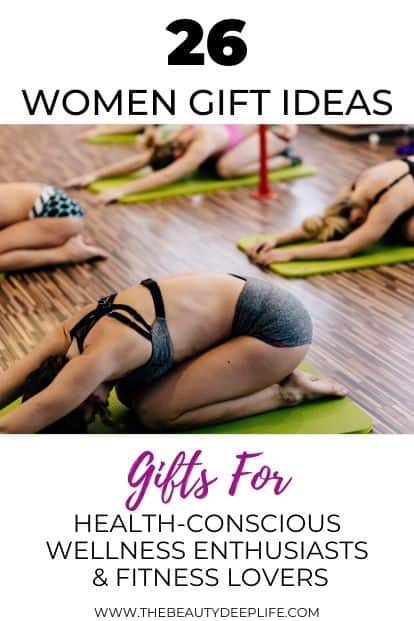 We are a participant in the Amazon Services LLC Associates Program, an affiliate advertising program designed to provide a means for us to earn fees by linking to Amazon.com and affiliated sites.  For more info, see Disclosure Policy.